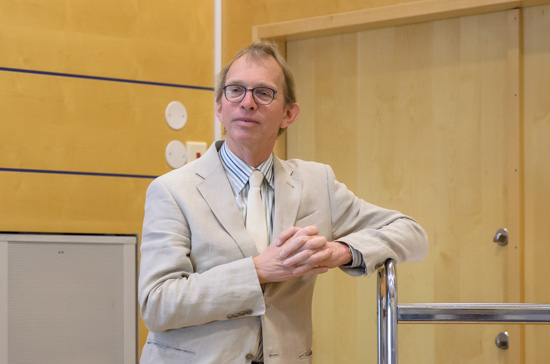 Today SACT arranged a State of the Union talk with our head of the department Christer Löfstedt. This may become an annual event; it was nearly a year ago on the day Christer gave his last one.
Christer gave, despite a severe cold, a hopeful talk. The state of our department is good, very good, excellent or even outstanding depending on what you aiming at. At the local level, everything is quite well even though a lot of work is coming from above. One problem may be that the expectations are rising when everything is well. He tries to keep them down and just deliver.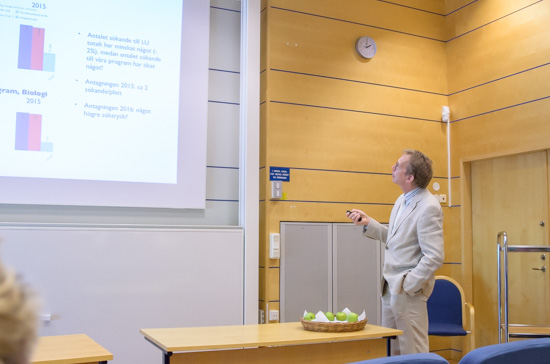 – You all do a bloody good job, said Christer. But we need so integrate more and be better at communication.
The psychosocial work environment survey shows that our department is a very good working place. Although everything can always be better.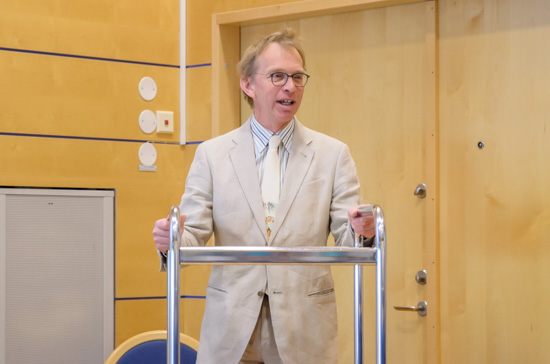 Christer thanked the old management group and announced the new one. It will consist of Karin Rengefors, Per Persson, Marie Dacke and Tobias Uller. They will support Christer and the heads of the units. There may also be an IT working group like the HMS-AU.
The Biodiversity unit will be given an overhaul. Karin Rengefors, Susanne Åkesson, Tobias Uller, and Per Lundberg will do interviews and discuss with the staff to see how the unit can be even better.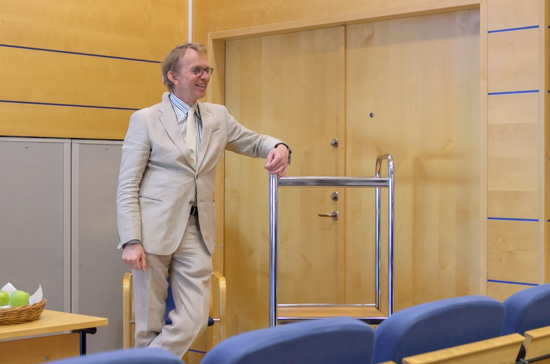 Our PhD programme is excellent and others are looking at it as a role model. The graduate schools GENECO and ClimBEcco have gotten renewed funding for another five years.
A big threat is the funding for undergraduate studies. The funding will not increase in the future, more likely to decrease. Christer assures us that we will continue to fight and will not give up a single student. Another challenge is the age pyramid of the staff. We become older and older and have to employ more young persons.
Christer talked about economics and it looks stable and the future pretty bright. Our researchers are good at getting funding, even some very big ones. They also publish articles rather constant over the years. Last year there were 356 original papers.
Now Christer is looking forward to invitations to the research groups' weekly meetings. He wants to visit all of them and take part in their discussions.
Even if the future is not so bright that I have to wear shades, it still looks pretty good. Thank you, Christer for a promising talk!
Text and photo by Inger Ekström